A man coping with the institutionalization of his wife because of Alzheimer's disease faces an epiphany when she transfers her affections to another man, Aubrey, a wheel chair-bound mute who also is a patient at the nursing home.
Beautiful movie. And where can I sign to be exactly like Julie Christie when I'll get older?!?
Seriously, she is stunning.
Nello, un imprenditore milanese che ha perso la propria posizione, si ritrova a dirigere una cooperativa di ex pazienti di ospedali psichiatrici, dopo l'entrata in vigore della legge Basaglia. Credendo fortemente nella dignità del lavoro, Nello spinge ogni socio della cooperativa a imparare un mestiere per sottrarsi alle elemosine dell'assistenza, inventando per ciascuno un ruolo incredibilmente adatto alle sue capacità ma finendo per scontrarsi con inevitabili quanto umanissime e tragicomiche contraddizioni.
Brilliant.
One of the rare pearls of the new italian cinema.
A college grad lands a job as a financial journalist in New York City to support where she nurtures her shopping addiction and falls for a wealthy entrepreneur.
When I read the book two/three years ago I find it funny, but I think they waited too long to make the movie.
Isla Fischer is cute but she is the proof that Patricia Field as a stylist is not enough to make a Carrie Bradshaw. Most of her outfits are absolutely hideous and unbeliveable.
BTW Hugh Dancy is an eye candy for sure.
A look at tightrope walker Philippe Petit's daring, but illegal, high-wire routine performed between New York City's World Trade Center's twin towers in 1974, what some consider, "the artistic crime of the century."
I've already saw it at Rome Film Festival last year, but Philippe's expeditions always worth a re-watch.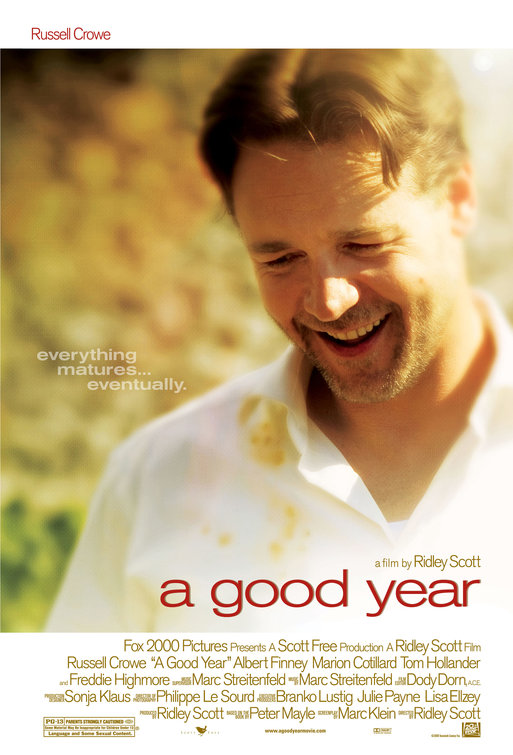 A British investment broker inherits his uncle's chateau and vineyard in Provence, where he spent much of his childhood. He discovers a new laid-back lifestyle as he tries to renovate the estate to be sold.
It's a nice movie, but I was expecting more from Ridley Scott.
Anyway, my new favorite french lady Marion Cotillard is enchanting, and Russel Crowe is enjoyable in this unusual role for him.
A fisherman, a smuggler, and a syndicate of businessmen match wits over the possession of a priceless diamond.
Great movie. I enjoyed it a lot and Leonardo DiCaprio's performance was great.
Two men reaching middle age with not much to show but disappointment, embark on a week long road trip through California's wine country, just as one is about to take a trip down the aisle.
Good but not brilliant as everyone said.