"Elegy" by Isabel Coixet
Cultural critic David Kepesh finds his life thrown into tragic disarray by Consuela Castillo, a well-mannered student who awakens a sense of sexual possessiveness in her teacher.
I think it's a nice movie, quite sad, but very poetic.
The photography is excellent, and both Penélope Cruz and Ben Kingsley are charming.

"Up" by Pete Docter and Bob Peterson
By tying thousands of balloon to his home, 78-year-old Carl Fredricksen sets out to fulfill his lifelong dream to see the wilds of South America. Right after lifting off, however, he learns he isn't alone on his journey, since Russell, a wilderness explorer 70 years his junior, has inadvertently become a stowaway on the trip.
People
who know me well know that I don't cry easily, especially NOT for a cartoon.
Well, when I watched this movie I cried, from the beginning to the end.
I was deeply touched especially by the way the love story between Carl and Ellie was told.
If you search a quite funny cartoon to spend your time, you have chosen the wrong movie: this is pure poetry.
"Saw" by James Wan
With a dead body laying between them, two men wake up in the secure lair of a serial killer who's been nicknamed "Jigsaw" by the police because of his unusual calling card.
I definitely don't like horror movies (yes, I'm very fearful), but this one is a must see just because of the brilliant ending.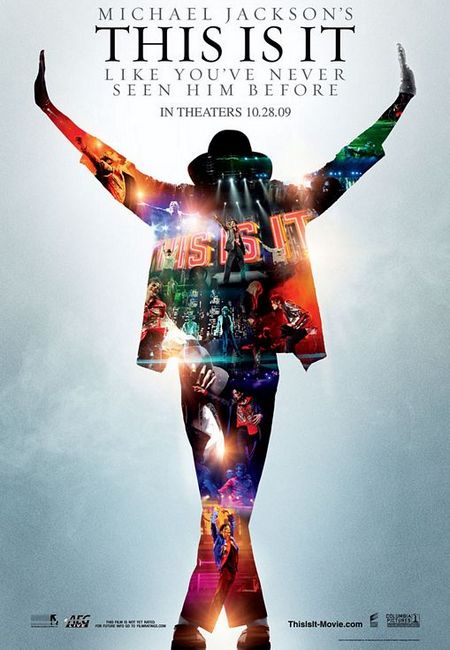 "This is it" by Kenny Ortega
A compilation of interviews, rehearsals and backstage footage of Michael Jackson as he prepared for his series of sold-out shows in London.
Since I was a little girl I've always loved MJ, but I find this doc very boring.
I mean, if the tragedy didn't happen and the shows were made, this material would be used as a mere part of the dvd features.
I thinks it's right to pay hommage to MJ first and then to all the amazing people that worked so hard to prepare the show, but a two hours movie is too much.
"Blade Runner" by Ridley Scott
Deckard, a blade runner, has to track down and terminate 4 replicants who hijacked a ship in space and have returned to earth seeking their maker.
I don't know why, but I was a bit disappointed after I saw this classic movie.
Surely it was a complete innovation, but I don't appreciated it the way I wanted.
However, Roy's final monologue is a piece of contemporary history.
"Breaking the waves" by Lars Von Trier

Drama set in a repressed, deeply religious community in the north of Scotland, where a naive young woman named Bess meets and falls in love with Danish oil-rig worker Jan. Bess and Jan are deeply in love but, when Jan returns to his rig, Bess prays to God that he returns for good. Jan does return, his neck broken in an accident aboard the rig. Because of his condition, Jan and Bess are now unable to enjoy a sexual relationship and Jan urges Bess to take another lover and tell him the details. As Bess becomes more and more deviant in her sexual behavior, the more she comes to believe that her actions are guided by God and are helping Jan recover.
I hesitated a bit to see this movie, because my relationship with Von Trier was troubled since I saw "Dogville".
But this movie made me change my mind.
This is a very complete movie: love, sex, madness, beautiful landscapes, religion, death, pain, sacrifice are perfectly mixed with an oustanding soundtrack.
And don't let me talk about Emily Watson: her performance blew me away. And that was her debut on the big screen...I just can say WOW.