"Departures" by

Yojiro Takita


Daigo Kobayashi is a devoted cellist in an orchestra that has just been dissolved and now finds himself without a job. Daigo decides to move back to his old hometown with his wife to look for work and start over. He answers a classified ad entitled "Departures" thinking it is an advertisement for a travel agency only to discover that the job is actually for a "Nokanshi" or "encoffineer," a funeral professional who prepares deceased bodies for burial and entry into the next life. While his wife and others despise the job, Daigo takes a certain pride in his work and begins to perfect the art of "Nokanshi," acting as a gentle gatekeeper between life and death, between the departed and the family of the departed. The film follows his profound and sometimes comical journey with death as he uncovers the wonder, joy and meaning of life and living.

I have a weakness for japanese and chinese movies, especially when they told traditional stories, though I really appreciate this one, which is completely different. It has a beautiful story, it's very touching and the music too is wonderful.
"Anche libero va bene" by Kim Rossi Stuart
Tommi and his slightly older sister Viola live in the city with their father. They cope with being a single parent family until their mother shows up, having disappeared without trace - not for the first time, we soon learn. These are the four protagonists in a bittersweet portrait of their ongoing struggle with love, friendship, puberty and life in general.

I really appreciate Kim as an actor, but with this movie he proved that is also a good director.
Very nice debut and the kid that plays Tommi is impressive.
"Eat Pray Love" by Ryan Murphy
Liz Gilbert had everything a modern woman is supposed to dream of having - a husband, a house, a successful career - yet like so many others, she found herself lost, confused, and searching for what she really wanted in life. Newly divorced and at a crossroads, Gilbert steps out of her comfort zone, risking everything to change her life, embarking on a journey around the world that becomes a quest for self-discovery. In her travels, she discovers the true pleasure of nourishment by eating in Italy; the power of prayer in India, and, finally and unexpectedly, the inner peace and balance of true love in Bali.
I bought and read the book in London this summer and

although of course it's not a masterpiece of world literature, I found it very enjoyable (

as well as an excellent exercise, as I read it in its original language). I didn't expect so much from the movie, which is equally carefree.
Julia Roberts is very beautiful and glowing but I was very disappointed by Javier Bardem: he's totally unsexy in this movie, the only thing that he had to do.
"The Tenant" by Roman Polanski
In Paris, the shy bureaucrat Trelkovsky rents an old apartment without bathroom where the previous tenant, the Egyptologist Simone Choule, committed suicide. The unfriendly concierge and the tough landlord Mr. Zy establish stringent rules of behavior and Trekovsky feels ridden by his neighbors. Meanwhile he visits Simone in the hospital and befriends her girlfriend Stella. After the death of Simone, Trekovsky feels obsessed for her and believes his landlord and neighbors are plotting a scheme to force him to also commit suicide.
Very french, disturbing and captivating.
"Harold and Maude" by Hal Hashby
The self-destructive and needy wealthy teenager Harold is obsessed by death and spends his leisure time attending funerals, watching the demolishing of buildings, visiting junkyards, simulating suicides trying to get attention from his indifferent, snobbish and egocentric mother, and having sessions with his psychologist. When Harold meets the anarchist seventy-nine-year-old Maude at a funeral, they become friends and the old lady discloses other perspectives of the cycle of life for him. Meanwhile, his mother enlists him in a dating service and tries to force Harold to join the army. On the day of Maude's eightieth birthday, Harold proposes to her but he finds the truth about life at the end of hers.
The first part is very smart and funny but overall I felt that the movie is a little bit dated.
The music of Cat Stevens insted is an evergreen.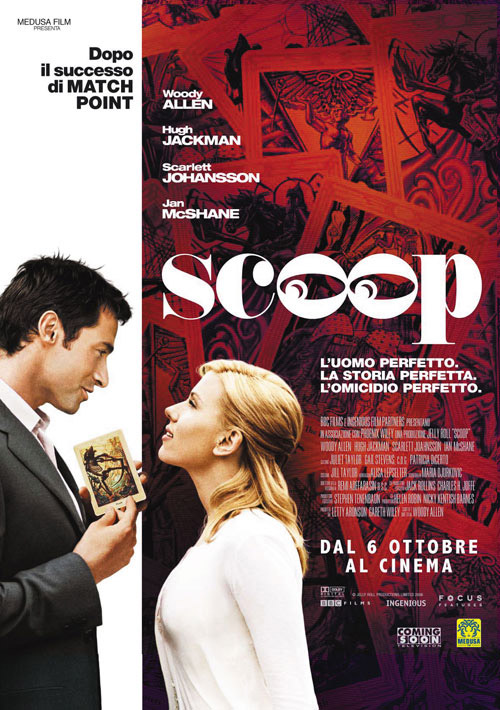 "Scoop" by Woody Allen
In the funeral of the famous British journalist Joe Strombel, his colleagues and friends recall how obstinate he was while seeking for a scoop. Meanwhile the deceased Joe discloses the identity of the tarot card serial killer of London. He cheats the Reaper and appears to the American student of journalism Sondra Pransky, who is on the stage in the middle of a magic show of the magician Sidney Waterman in London, and tells her that the murderer is the aristocrat Peter Lyman. Sondra drags Sid in her investigation, seeking for evidences that Peter is the killer. However, she falls in love with him and questions if Joe Strombel is right in his scoop.
I'm a fan of Allen's work, but this movie is nothing special.
"Children of men" by Alfonso Cuaròn
The world's youngest citizen has just died at 18, and humankind is facing the likelihood of its own extinction. Set in and around a dystopian London fractious with violence and warring nationalistic sects, Children of Men follows the unexpected discovery of a lone pregnant woman and the desperate journey to deliver her to safety and restore faith for a future beyond those presently on Earth.
I admit that I was biased against this movie, because I thought it was the usual pointless action movie. Instead I had to change my mind, because I think it's very clever and realistic (unusual for this type of movies).
"Amarcord" by Federico Fellini
A year in the life of a small Italian coastal town in the nineteen-thirties, as is recalled by a director with a superstar's access to the resources of the Italian film industry and a piper's command over our imaginations. Federico Fellini's film combines the free form and make-believe splendor with the comic, bittersweet feeling for character and narrative we remember from some of his best films of the 1950s. The town in the film is based on Rimini, where Mr. Fellini grew up. Yet there is now something magical, larger-than-life about the town, its citizens and many of the things that happen to them.
I'm very ashamed to admit it, but I hadn't seen any Fellini film and this one was my first one.
Unfortunately I didn't like it the way I wanted: I found it very slow at times, and also far away form my life experience. I don't know, maybe it's because I grew up in a big city instead of a small town like Fellini so I couldn't understand the links that are established in a small community
. Or maybe I simply don't like Fellini's style.
By the way I will certainly give him another chance.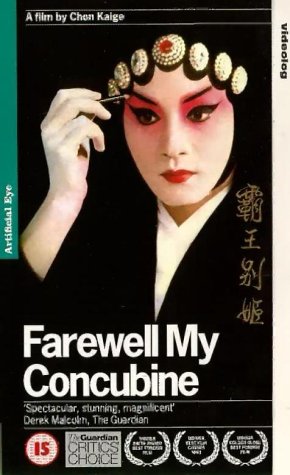 "Farewell my concubine" by Kaige Chen
"Farewell, My Concubine" is a movie with two parallel, intertwined stories. It is the story of two performers in the Beijing Opera, stage brothers, and the woman who comes between them. At the same time, it attempts to do no less than squeeze the entire political history of China in the twentieth century into a three-hour time-frame.
"Wall Street: Money Never Sleeps" by Oliver Stone
As the global economy teeters on the brink of disaster, a young Wall Street trader partners with disgraced former Wall Street corporate raider Gordon Gekko on a two-tiered mission: to alert the financial community to the coming doom, and to find out who was responsible for the death of the young trader's mentor.
Interesting but very corny at times.
Douglas as Gekko is terrific.